Only one dodgy one! ! 
In green  

Crad

Moderator




Posts

: 2786


Reputation

: -148


Join date

: 2012-03-05


Age

: 54



For people who didn't go ,Don't be decieved by the size of the Hotel... the rooms were the smallest rooms this side of a Barbie House .. I had to sleep with my feet under the bloody writing table until we moved the room around..!
  On the plus side the Hotel Bar sold the cheapest beer in the City..!!!  Unfortunately it was Carlsberg ,but beggars (and people running out of money) can't be choosers...
 Brilliant meetup at the Floras Kaffe before ,with Ian taking the prize for biggest burger consumed this meet up !
  Good beer ,"Red Something or Other" ,about 6% something and a very nice colour! It worked out to about £7 a half litre..,but when your'e out with mates.. and having a laugh....
I'll let someone else review the gig as you've all probably heard that the Crew had forgotten to put 50p in the Spiders Meter... BUT it seemed to me that the band made up for it with a bit of extra pyro to compensate...
 As you may have seen on KISSONLINE Paul did indeed fall over right in front of us about 10 feet away and seemed to have slightly come a cropper, but tried to get away with it by doing his Rock Star poses..
 As said before ..Fantastic city ,very laid back indeed ,with many more bicycles than Amsterdam , and 100's of 7-11's (the shop) around the place..
After the gig ,instead of going out we went back to hotel and regaled ourselves with adventures past, present and possibly future...
 At about 1 AM some of the chaps decided they were hungry so piled out "Into The Night" ,only for a pizza delivery boy to walk in less than 10 seconds later with a massive stack of Pizzas that Darren from Hull had ordered secretly on the 'net!
 I know this isn't a particularily interesting post ,but it might give absent friends the incentive to come along next time ,as the meet ups now are getting more fun that the Band!!!!
  Here's to the next time!

madmark




Posts

: 891


Reputation

: 15


Join date

: 2012-10-09


Age

: 59


Location

: Buckingham Palace



Here's some more strange people.
Look at this little troll...
From left to right... Shane's dad, Kev. Radio personality & recording artiste extrodinaire, Ian Danter, Ma, Bill Oddie & fellow LFC fan Ben who is something of a Jonah when it comes to kiss. Everytime he comes with us to their shows they're crap.
Two very strange individuals caught red handed taking photo's of Paul's arse. Our glorious leader & Amro, the barking mad Aussie.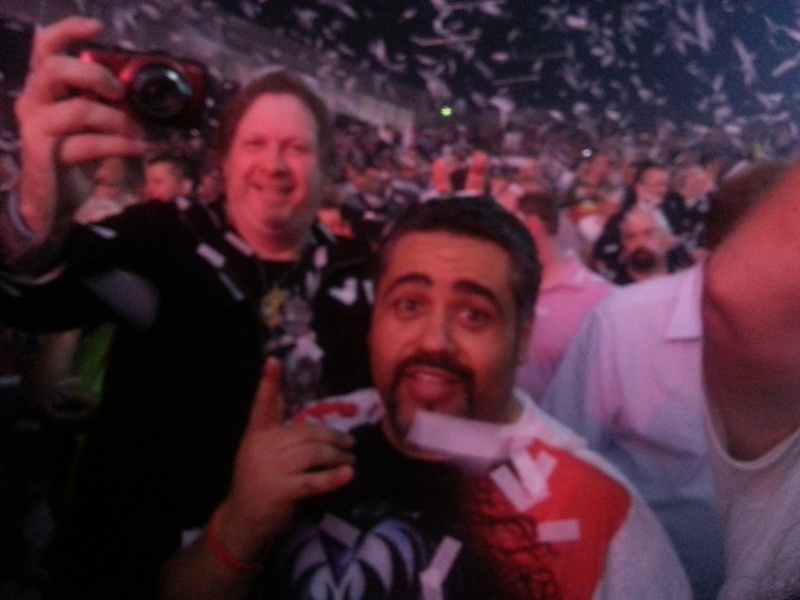 And here's cyclops woman....or the extremely mental Spooky to us lesser mortals
Finally, the  fly catching twins on the way home
All I can say is what a motley crue

TONYSOUTH




Posts

: 642


Reputation

: 6


Join date

: 2013-03-11


Age

: 59


Location

: In the living room watching TV my arse I am !



Great pics and stories, loving it!
Ma! wrote:
great pic. YOu have Shane in a trace, HKA looking more camp than Xmas, Ma doing her movie star pose, Spooky looking like a pirate, and Fook me even Jerry Springer is at the back. Looks a great time. all it is missing is me falling out of a bar
Next time you can make up for it Sid.
---
Permissions in this forum:
You
cannot
reply to topics in this forum